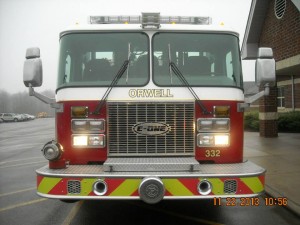 Staff
Fire Chief:  Scott Merlino
Emergency: 9-1-1
Non-Emergency Phone: 440.437.6470  FAX: 440.437.6199
Address: 72 E. Main St. Orwell, Ohio 44076
Email: smerlino@orwellvillage.org
The Orwell Fire Department provides primary response to fires, rescue operations,
and hazardous material incidents for Orwell Village, Orwell Township,
and Colebrook Township. In addition, The department provides public education
and safety inspections.
Fire Department Rental Contract / Information:  Orwell Village Hall Rental Agreement Rev.
Police/Fire/County EMA
Link to Ashtabula County EMA:
http://www.co.ashtabula.oh.us/129/Emergency-Management-911
SIGN UP FOR:
Swift911 Public FREE Emergency Alerts

which include:
Public Safety Alerts

Emergency Notices and Instructions

Important Local Notices
The

FREE

Swift911

system is used to send critical communications to residents by Text, Voice, or Email. Click the link below and then click on the Swift911 Emergency Notification link under Quick Links near the bottom of the page.  If you need assistance in signing up, call the Ashtabula County Emergency Management Agency at

440-576-9148

TO SIGN UP VIA PHONE.